LOVE LOVE LOVE them
Review by Stephanie on 26 Feb 2019
I am in serious love with these shoes. It is difficult to find cute shoes with larger feet and these in a 43 wide fit me perfectly. I can wear them all day and my feet still feel good at the end of the day. None of that, "ahhh" feeling when I take them off. Instead, my feet feel energized. Wish they had other colors in the 43 wide as I would buy more!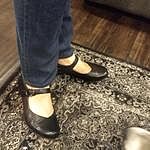 Lieutenant F.
5 star rating
Great shoes. My wife loves
Review by Lieutenant F. on 28 May 2019
Great shoes. My wife loves them. Very stylish and quite comfortable for her job as a univesrity professor where she spends a great deal of time on her feet.
Fawna shows
Review by Sheena L. on 11 May 2019
These shoes are the most comfortable shoes!!!! I love the style, the color and the fit
Most comfortable shoes ever!
Review by Pat on 2 May 2019
I absolutely love love love these shoes! I walk a lot (about 5 mi per day) and, working in schools, I'm on my feet for hours at a time. My feet feel great in these shoes. And, they go well with both my casual and dressier outfits. I can't recommend them enough.
Fits comfortably. Can be worn
Review by Christy on 19 Mar 2019
Fits comfortably. Can be worn casually or dressy. Love these shoes! I can walk and stand in them all day. Perfect for teachers .