Filter Reviews
Fit
Size
Color
Arch
Weight
Look
Support
Sneakers
Problem
Stability
Sandals
Feet
...
Laces
Shoes
Clogs
Pair
Season
Dansko
5.0 star rating

4.0 star rating

3.0 star rating

2.0 star rating

1.0 star rating
Best work shoes I've ever had!
Review by claudia on 27 Jun 2020
review stating Best work shoes I've ever had!
These shoes were amazing from the minute I first put them on! Incredibly comfortable, stylish, very well designed for standing long periods of time and very safe in slippery surfaces. I feel like my posture and gait have improved because of these shoes. I'm actually considering buying them in other colors, as I want to wear them for everything now. Many have complimented me on this gorgeous palette, and on the fact that they don't look like work shoes. I'm super picky when it comes to comfortable shoes and I have to say I'm very happy here. My only complaint would be that they're a tad bit larger than I need and there aren't any half size options.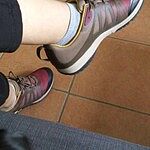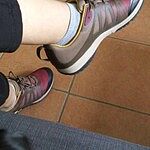 Comfortable with excellent customer service
Review by Sarah on 1 Jan 2021
review stating Comfortable with excellent customer service
This shoe runs small but is extremely comfortable.

Initially I ordered the same size I always wear (I have many dansko pairs) only to find, after a 2 mile walk, it was too small. On seeing the return policy online (which says shoes have to be unworn to return), I made a leap and called dansko customer service to see if an exception could be made. These are expensive and I didn't want to just throw $150 away because I wore them outside. Upon making the call I was told the return policy posted online is in error, even though I had worn these shoes outside there was no problem in returning, just pop them in the mail and a new pair (one size larger) would be sent my way.

The customer service agent I talked to also gave me her email to ensure we could keep in touch and the return would proceed with no issues. I now have the larger size and am very satisfied.
My recommendation for returns is to call customer service, I received excellent service and am a customer for life. She went out of her way to ensure I was satisfied, which is rare these days.
They are a comfortable, supportive
Review by Diane on 31 Oct 2020
review stating They are a comfortable, supportive
They are a comfortable, supportive shoe and are definitely waterproof, which is why I purchased them.
This. Jean I do lots
Review by Jean on 12 Oct 2020
review stating This. Jean I do lots
This. Jean I do lots off walking my job I always wearing sneakers but then my feet start painting me end off day and daughter keep telling to get pair of Dansko and I when and order a pair and is best money I spend every time somebody will stop me and ask me we're I buy shoes and name and next question is it come able yes yes I tell go get get your self a pair you would not regret it
I bought the sneakers hoping
Review by Peggy on 27 Sep 2020
review stating I bought the sneakers hoping
I bought the sneakers hoping for the same effect of total foot comfort as the professional clogs.
I had a severe case of plantar fasciitis from wearing flat sandals earlier in the summer and thought the sneakers would work like magic as I love Dansko clogs.
I didn't get exactly what I had hoped, but the sneakers are very nice, and I will enjoy them.